Quantum Information in Spain (ICE) is the conference of the Spanish Network on Quantum Information and Quantum Technologies RITCE (RED2018-102707-E) that provides an anual meeting point for the community also with international researchers working in the field, with emphasis in giving visibility for junior researchers to present their work.
ICE-8 covers all main aspects in the field of quantum information science and technology: quantum computing, quantum communications, quantum metrology and sensing and other enabling quantum technologies in the aim of bringing together academia and industry.
ICE-8, May 29th to June 1st 2023, is organized by CESGA,  IGFAE, USC and Qspain. Previous editions can be seen here.
Opening Registration, December 1st
Registration deadline, May 12th
Registration payment deadline, May 15st
Opening Abstract submission, January 9th
Abstract submission deadline, March 1st
Communication of abstract acceptance, March 17th
All deadlines expire at 23:59
Note we have a limited number of affordable participants of 150. After reaching this number registrations will be closed.
Monday 29th
Tuesday 30th
Wednesday 31st
Thursday 1st
09:00-9:15
Registration
Daniel Barredo
Cécile Yu
09:15-9:30
Welcoming
09:30-9:50
Valerio Pruneri
Danniele Ottaviani
9:50-10:20
Manuel Gessner
Luca Tagliacozzo
10:20-10:50
Víctor Zapatero
Federico Centrone
Xi Chen
Pol Forn-Díaz
10:50-11:20
Coffee Break
11:20-11:40
KeySight
Fujitsu
Eviden
Carlos Ramos Marimón
11:40-12:00
Fadri Gruenenfelder
Adán Cabello
Cristian Tabares López
Juan Román-Roche
12:00-12:20
Pablo Andres-Martinez
Géza Tóth
Poster Session 2
Márcio Taddei
12:20-12:40
Tamás Kriváchy
David Trillo
Armando Pérez
12:40-13:00
Alejandro Pozas-Kerstjens
Alberto Rolandi
Constantino Rodríguez Ramos
13:00-14:20
Lunch

14:20-15:10

Dennis Schlippert
Vedran Dunjko
Sofia Vallecorsa
Joaquín Fernández-Rossier
15:10-15:30
Carlos Pascual
María De Matos Afonso Pereira
Sergio Martínez-Losa del Rincón
Rodrigo Martínez-Peña
15:30-15:50
Róbert Trényi
Florentino Borondo
Sebastian Roca-Jerat
Luca Mondada
15:50-16:20
Coffee Break
Manuel Algaba (20 min)
16:20-16:40
Georgy Kornakov
Jose Carlos Abadillo-Uriel
Daniel Faílde Balea
Coffee break (30 min)
16:40-17:00
Yue Ban
Pablo Díez Valle
Álvaro Alhambra
17:00-17:20
Carlos Munuera Javaloy
Axel Pérez-Obiol
Wenyan Qian
Visit to CESGA
17:20-17:40
Poster Session 1
Aman Ullah
Jesús Cobos Jiménez
17:40-18:00
Roberto Di Candia
18:00-18:20
Iagoba Apellaniz
19:00-20:30
Tour
20:30-
Banquet
Link to the schedule, here.
Call for abstracts opens January 9th 2023! Abstract submission deadline is March 1st . Authors can contribute with the following topics: quantum communication and cryptography, quantum computation and simulation, quantum metrology and sensing, quantum information theory, quantum thermodynamics, photonics, trapped ions and enabling technologies.
This conference is organized as a face-to-face event, an online participation is not possible. Authors are requested to indicate their preference for oral or poster presentation on the abstract submission form. The final decision is took by the scientific committee .​
If you have any questions or issues with abstract submission, please do not hesitate to contact us here.
Enroll in!​​
Registration covers coffee breaks, networking lunches, and the Wednesday dinner.
Once registered, you will receive an email requesting you to pay. Here is the link:
We are already 150 people! 
Note we have a limited number of affordable participants of 150. After reaching this number registrations will be closed.
Limited financial support to cover the fee is available upon request for students (deadline 23:59 April 1st). Here the guidelines:
Santiago de Compostela is a touristic city with a wide range of charming offers. Thus, advanced booking is convenient to find the proper accommodation.
We recommend these hotels near the event. We show the price of those with fixed taxes. For the rest, the price is variable. Email the hotel with the code ICE8 to receive a discount of 10%. Those hotels with no email attached have the option to apply this discount in the registration form by typing the same code:
Farther:
Hotel San Martiño Pinario (reservas@sanmartinpinario.eu): single bedroom 55€, double bedroom for single use 62€, double bedroom 74€
Hotel Montes (reservas@hotelmontes.es)
Casa de Europa (informacion.casaeuropa@usc.es): double bedroom for single use 65,97 €
AC Hotel Palacio del Carmen (reception.palaciodelcarmen@autographhotels.com): single bedroom 145€
A more economical, with no discount, option on Campus:
For more information, visit Santiago de Compostela Turismo.
academic.info.ice8@listas.cesga.es
Do not hesitate to contact us for any doubt related to the normal progress of the conference: registration, accommodation, venue, dinner, … or for any doubt related to abstract submission or any other academic question.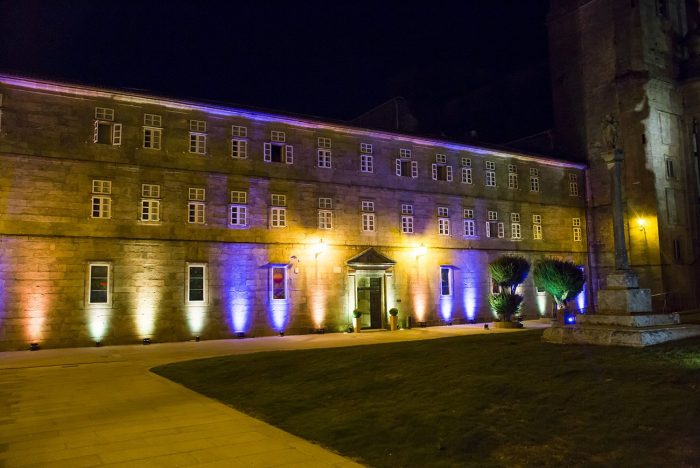 DINNER
The ICE-8 dinner will be held on Wednesday, the 31st at 20:00h. at the Hotel Monumento Convento de San Francisco, an XVIII-century building which is 150 meters away from the Santiago de Compostela Cathedral. This building was declared an Asset of Cultural Interest.
Young researchers PYSQT dinner
The PYSQT is organizing an informal meet-up dinner for PhDs and young researchers attending the conference. It will be held on Monday the 29th at 21:00. This event is not included in the conference fee and the registration must be done here.
Sponsorships will bring you the opportunity to present your company or project, and your activities. There are several sponsorships available for you, depending on your needs.