Open Days CESGA "MEET FINISTERRAE"
Within the framework of the Open Administration Week 2022 promoted by the General Directorate of Public Governance, CESGA celebrates on June 28th and 29th open door sessions for citizens through which to learn about the new FinisTerrae III Supercomputer and the services offered to research and innovation groups.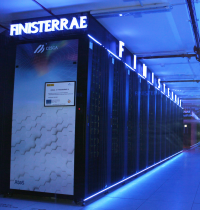 Any citizen who wishes may take a guided tour of the facilities of the Galician Supercomputing Center, after submitting a request through this form.
The guided tour lasts around 30 minutes and requires individual/group registration (groups may not exceed 20 people).
Galician Supercomputing Center is located at:
Avenida de Vigo, s/n
15705 Santiago de Compostela
A Coruña, España
Phone: +34 981 56 98 10
info@cesga.gal
42º52.539 N 8º33.196 W